Garage Attic Storage
Garage attic storage can be a nice addition to any garage that has attic space between the roof rafters and the ceiling joists. Typically, garage attic joists have 16 or 24 inch centers, which are measured from the center of one joist to the center of the next one.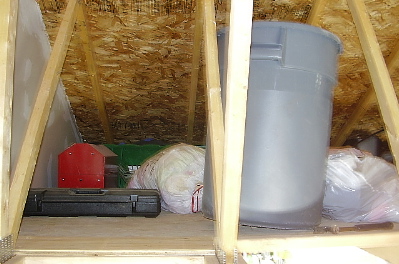 Attic Weight Limitations
I'm not a structural engineer, and in no way am I qualified to tell you if your garage attic is safe for the weight of storage or not. I do know that the formula factors in the size of the joists, the center-to-center distance between the joists, and the span between the walls that hold them up, and there may be more to it that I'm not aware of. If you search the internet for quality information on the weight limits of garage attic storage, you'll eventually come across different opinions from builders and homeowners alike.
But if you want to know exactly how safe it is, then consult an experienced remodeling contractor or engineer. That way you know for sure. From what I've read and heard, most builders say that trusses in garage attics are designed to hold up the roof, but not a floor as well. On the other hand, many homeowners say they've used the space for storage for many years without any problems at all. In my garage, I have one section that's unfinished. It has 5 trusses on 24" centers with a span of 20 feet. I used a few 8x4 ¾" plywood sheets cut to 4x4 (easier to get up there) for the flooring in mine.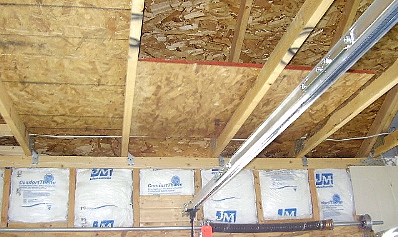 I didn't fill in the entire space, and I put the attic flooring only near the ends of the trusses, and kept it away from the center. This way, the supporting beams and posts help relieve the added load on the trusses. They've been up there for almost three years and I see no signs of "ceiling sag." I don't use my garage attic storage for anything heavy at all. Instead, I use it for things like camping equipment, bulky plastic kids stuff, seasonal decorations, and anything else that gets seldom used and isn't heavy. Not surprisingly, the space I created filled up fast with lightweight clutter.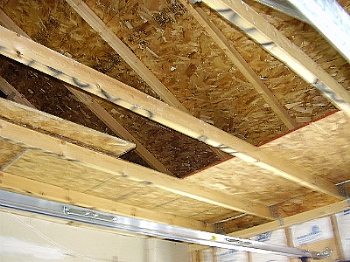 Attic Access Options
So…if you give the green light for garage attic storage, then you're going to need a way to get in there. No one said attic utilization would be easy! Whether or not you finish the ceiling with drywall, you'll have to leave at least a scuttle-hole to climb through. This is nothing more than an access hole somewhere between 2 adjacent joists and about 4 feet long to ensure you can get light-weight bulky items easily in and out.
Getting to the access hole will require some type of ladder. Home improvement centers sell both wood and aluminum pull-down ladders which have been around for many years. One of the best features of a pull-down attic ladders is that you won't have to find a place to store it when you're finished. Most models are spring-loaded so they're easy to push back up into their stowed position.
If you don't really want a pull-down ladder, then you can use either a fold-out ladder or an extension ladder. If you do use a fold-out ladder, make sure it's tall enough to safely get you through the access hole. I prefer an extension ladder as it extends up through the hole and feels sturdier while I'm using it to move things up and down. It all depends on how comfortable you are on ladders.
Now that you have access to your attic, it's time to think about some type of flooring to safely walk on and store things. Again, I used ¾" plywood because it was the least expensive way to go. All I had to do was get it up there, and screw it down to the tops of the joists. I also measured the space and cut the plywood first before putting it in place.
Plywood works fine as a garage attic storage floor, but it has one major drawback....it's heavy. Plywood isn't easy to lift over your head, so I'd recommend another person to help you as it's not only heavy, but cumbersome as well. And back to weight, if you're at all concerned about how much weight your attic will hold…then just don't use plywood.
Another garage attic storage flooring option is to lay down 2x6 planks, and screw them to the tops of the joists. This is probably easier than wrestling with plywood, but when it's finished, it'll weigh even more than plywood. Just like plywood, if you're worried about your attic weight limits, then don't use 2x6 planks.
There is yet another option called Attic Dek. Attic Dek is a lightweight plastic product that spans the distance between the joists. Available are two sizes to fit 16 or 24 inch joist centers The pieces have pre-drilled holes for putting screws through to attach to the joists. I have never used Attic Dek products, so I really can't give them a fair review. They appear to be a terrific garage attic storage solution.
Based on their light weight alone, they just may be the right solution for you. Make no mistake about it, they're going to cost you more than plywood or 2x6's, but I think it'd be worth it. Especially since you can easily remove them and quickly install them if you move to a different house.
No doubt about it, if it was in my budget, I'd remove the plywood I used and replace it with Attic Dek, which is available for both 16 and 24 inch centers. If you do decide to utilize your garage attic space for storage, you'll enjoy having things off the floor. This means no more stumbling and fumbling with clutter while trying to find something in a pay-by-the-month storage facility somewhere.
Utilizing your garage attic is a nice way to get things off your garage floor, but be cautious of how much weight you put up there. It's not a good idea to store your uncle's 1970's vintage bowling ball collection up there!