Particle Board Garage Shelves
Garage shelves can be made from many different kinds of wood. This page illustrates a way to use particle board in particular. The method is relatively fast and reasonably priced.
First…Determine where in your garage the shelves are going to live, then measure how many feet of shelving you'll need. Next, go shopping for the shelves, brackets, standards, and screws. You may even have some of these things on hand.
In this example, the particle boards are ¾" thick, 1 foot deep, and 8 feet long, which is perfect for garage shelves. The tracks that hold the brackets are called standards, which must be anchored level with each other to the supporting wall studs. The screws for fastening the standards are 2" long.
If you're attaching the standards over drywall, then you can poke two small screwdrivers into the drywall so that they hold your level. This will allow you to ensure the standards line up with each other vertically…very important!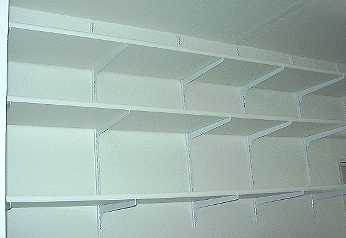 Tap each bracket down with a hammer until it stops. Don't bang on it any more after that! It'll hold the garage shelving just fine. Now, it's time to set the shelves in place. In this example, the shelves were painted white to blend in better with the garage. If you want to raise or lower the shelves, just tap the bottom of the bracket and it comes right out. Then all you have to do is relocate the brackets, tap them down, set the shelf, and you're done.
In this example, a garage service door is in the way, so the bottom shelf was cut down to 6 feet long from 8 feet long. You're garage probably has similar areas where your shelves can't all be the same length. Storing household chemicals out of the reach of little ones is always a good idea.
That's it. Now you're ready to find places to add even more shelves!