Garage Floor Paint...
What You Need to Know
Using garage floor paint on your concrete garage floor is a great way to take care of it and here's why:
It's inexpensive compared to other coverings.
Applying and maintaining the paint is fast and easy. You can get concrete floor paint at your local home center, or local paint store. Usually, it is a 100% acrylic latex that you can get in a dull or glossy finish. On average, you can expect to get about 200-300 square feet of garage floor paint per gallon. It's very important to correctly prepare the garage floor surface before painting it.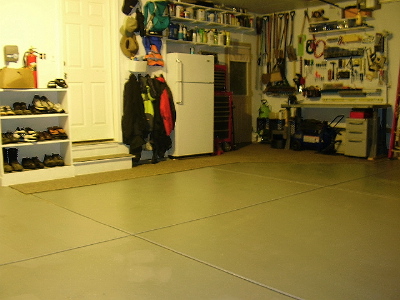 Pay close attention to the instructions on the paint can before you begin!
When I first moved into my home, I decided to use garage floor paint. The color I used is "Slate Gray", which is common with major manufacturers.
If you're going to paint your garage floor, know this...
You WILL have to remove the paint if you choose a 2-part Epoxy product down the road.
Inevitably, there WILL be small peels, chips, and flakes.
You WILL be able to wipe away automotive fluid leaks and spills, as well as melted, hardened, winter muck carried in from your vehicle(s).
You WILL have to touch it up at least once a year because of hot tire pick-up and normal traffic.
Personally, I don't mind rolling on a quick touch-up coat each summer. It helps me keep my garage organized anyway. Using floor paint is a very fast, easy, and inexpensive way to upgrade and protect your garage floor.
Here is a generic guideline for applying garage floor paint...
Make sure the ambient temperature is between 50 and 100 degrees Fahrenheit.
Clean your garage floor surface! Make sure it is free of dirt, oil, and grease. You can use detergent, or get some concrete wash at the hardware store.
Apply a concrete bonding primer. You can get this at your local hardware store as well. It will practically eliminate the paint from cracking, chipping, and flaking off.
Stir often! Stir your paint well right before you use it. It's also good practice to occasionally stir it while you are using it.
Roll it! It's easier and less of a mess than spraying. Use a 3/8"-1/2" NAP roller cover. The higher quality the better. Use a polyester/nylon brush for painting around the edges.
When you roll, try to roll the first coat in one direction, and the next coat in the perpendicular direction. This will assure the best coverage possible.
Wait at least 2 days before applying the second coat. Wait 4 days before parking your car on the final coat. Wait 4 weeks before cleaning the newly painted surface with a non-abrasive cleaner.
Most of all... Good luck!