Garage Floor Tiles
Garage floor tiles are ideal for covering your garage floor with a durable and refreshingly clean look and feel.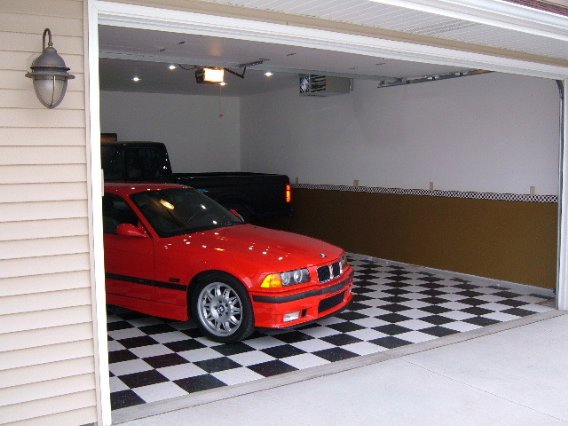 You can install them yourself in just one day. They are available in several different colors, so you can create your own schemes and patterns as you install them.
They are incredibly durable. They easily withstand things like extreme temperatures, automotive fluid spills, chemicals, grease, heavy vehicles and motorcycle kickstands to name a few.
They have many advantages over other coverings such as paint and epoxy. First of all, garage floor tiles are thicker and heavier than paint or epoxy, which means they naturally create insulation between you and the floor. This is great during those cold winter months!
Some types use glue, and other types do not. One advantage of not using glue is that you can take the tiles with you when you move. They will not crack and/or peel like paint and epoxy can. They are a breeze to clean so you do not have to worry about stains from automotive fluid spills.
Their surface is also skid resistant, so you will not be spending any time scrubbing away scuff marks. Most of the interlocking tiles are available from 1 square foot up to nearly 3 square feet.
Some types of tiles are even slightly raised and porous which allows moisture to escape as well as dust and dirt to fall through so you do not have to clean your floor as often.
And, you will not track any dirt into your home.