Garage Pegboard Accessories
Pegboard accessories are basically hooks, baskets, and bins that fit snugly into pegboard holes. They're an ideal solution for easily organizing and storing tools and other garage items. They're very common, and you can find them in any home improvement or hardware store.
The overall cost of using pegboard is significantly less expensive than using systems like Slatwall and Gridwall. Pegboard hole sizes are either an eighth inch or a quarter inch, so make sure your hook accessories are the same as the hole size.
One thing's for sure, no matter what type of hook you use, something will hang from it…it's a natural phenomenon. Here's a closer look at some pegboard accessories:
Pegboard Hooks
Hooks are the most widely used pegboard accessory. Best of all…. they're cheap. Basic hooks are available in steel or plastic. They're typically 1" & 1 1/2" long, which once installed, is the distance between the pegboard and the outer end of the hook. You can also find hooks from 2 to 10 inches long.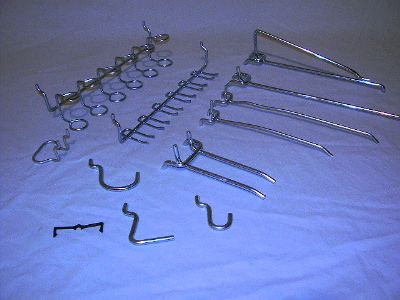 Pegboard Baskets
Pegboard baskets are incredibly useful for organizing and storing smaller things like work gloves, flashlights, and tape measures. Pegboard baskets are available with a flat.or straight top, as well as sloped (or angled) top. Flat tops are more common, but sloped tops allow you to store taller things like car manuals in the back of the basket, and shorter things like scissors and staplers in the front of the basket.
Heavy-duty baskets are also available, Often called "heavy wire" or "Gondola" baskets. These can generally be up to 3 feet or wider .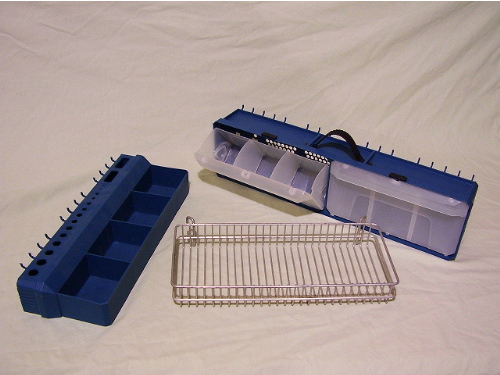 Pegboard Bins and Trays
These are great for storing smaller items like nuts, bolts, washers, screws, and nails. Unlike baskets, pegboard bins won't allow the small items to fall through as the bins have a solid bottom and walls.
You can use bins and trays to organize and store anything that'll fit inside. Using pegboard is a great way to get things organized. Make sure to use common sense when it comes to how much weight your putting in the bins and trays. They'll hold plenty, but too much weight will rip the pegboard.
Pegboard Shelves
Another nice benefit of using pegboard accessories in your garage is that you can easily add shelves without having to use nails, screws, or a level. To do so, all you'll need are some pegboard brackets and whatever size shelf you want.
Pegboard shelf brackets are typically 6 to 14 inches long, which is really all you'll need. As a rule of thumb, you can space the brackets about two feet apart. For example, if your shelf is 6 feet long, then a bracket in the middle and one on each end will do the trick.
Garage Pegboard Accessories
One problem with pegboard is that the hooks have the tendency to fall off while removing the item. This is just as annoying as it is common. It also happens a lot when the used pegboard holes become slightly bigger over time through normal wear and tear.
To prevent this, you can install plastic anchors that span the base of the hook and keep it in place. The anchors are available anywhere you can buy the hooks. Another option is to use locking plastic pegboard hooks. They snap into place, you won't have to worry about anchoring them, and they come in different colors as well.